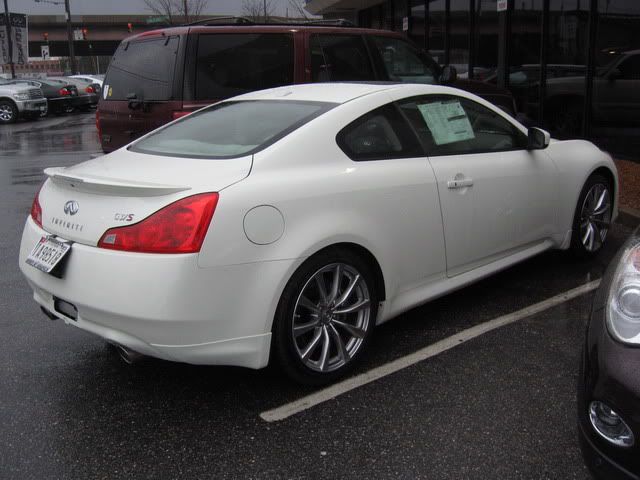 I'll admit that when I was dragged along actually watched Tyler Perry's Movie 'Why Did I Get Married'. Want to guess what it was like? No need - It was your typical Tyler Perry story. If you don't know what I'm talking about, I'll summarize it in one sentence: a group of women discover how bad their relationships are. That's about it. There's something wrong with each of the men they're with- and obviously nothing really wrong with the women. Then again, if something really were wrong with the women, Perry wouldn't be making much money, would he? I digress.
As the movie unfolds we learn how someone can figure out whether or not they're with the right person: One comes up with a list of things that are positive about the person, versus a list of negatives. The idea is that it's all too easy to leave something good for something else that, in reality, offers much less. They call it the 80-20 rule. Don't leave someone that gets 80% of the job done for someone that gets 20% of the job done.
By and large the movie was reasonably entertaining but predictable. Thankfully, male bashing was kept to a minimum and, although I won't give away the ending, I will say it was entertaining- even for men. It was fairly corny, but for most (women) I suppose it all worked and they got what they were looking for.
It was all pretty far away from my mind while I was hammering a brand new Infiniti G37 through driving rain at near triple digit speeds in Washington DC. When I was offered the drive I was actually skeptical because I really don't like driving in the rain. Although I've setup my own G35 to be "multipurpose" and usable in the rain... I usually avoid inclement weather. I normally drive my car for fun and, well, rain is messy if not dangerous business when you're pressing it hard... but when I was strapped in to this G37, everything felt right, so I started to push it. And as one thing led to another.... there I was.... 80mph.... In deep water.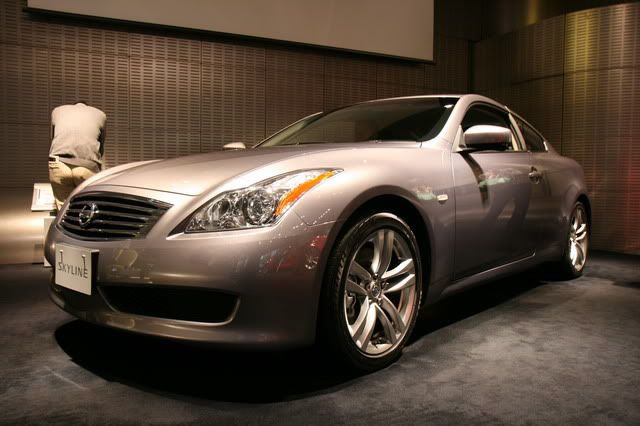 This car needs little introduction because most people are familiar with Infiniti's first new-line offering, the G35. But for those who aren't, letís do a brief recap:
In the midst of some tough times Nissan Japan decided to end the production of its Skyline R34 range, which included a GT, GTST, and the famous AWD twin turbo GT-R among others. But at the same time their new boss, Carlos Ghosn, decided to take the Skyline brand global. A new platform was created for it. They switched from a straight six to a lightweight V6 and moved the engine lower and further back on the front axle. The drivetrain remained primed for either RWD or ATTESA AWD. The car would be a proper driver's car, but more elegant than before. The new platform was called the front midship or FM platform, and it premiered in the Infiniti XVL concept in 2001. From the FM platform we received the V35 Skyline 250GT and 350GT- in Sedan and Coupe. In the US the Skyline 350GT would be sold as the G35 Sedan and G35 coupe. It brought Nissan's big guns to bear on the BMW 3 series and a number of other cars, winning numerous awards and selling at a terrific rate. The FM platform was so adaptable that Nissan built the Skyline's bredren, the 350Z off of it, and even used it to build the Infiniti FX SUV. Fast forward several years and Nissan has completely upgraded the platform and given us the all new G37 Coupe.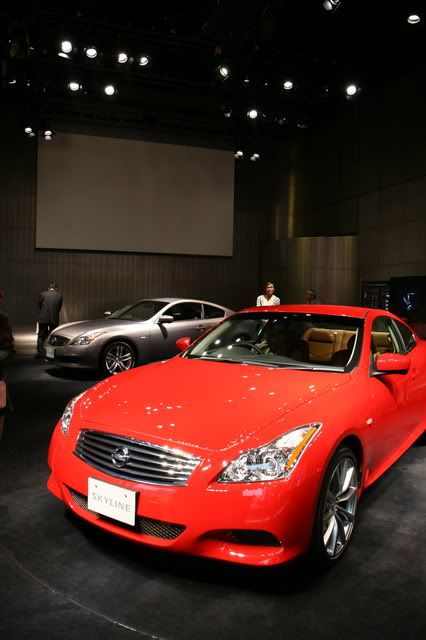 Walking around the new G coupe, the car is disappointingly less seductive than its concept. While the overall look isn't unattractive, the car just isn't the stunner that it was expected to be. Relative to its competition, it also appears to have lost some of its sexiness. In late 2002, when the G35 Coupe first hit the streets, it was impressive. Nothing looked like it. People thought the car cost two or three times the price it really did. Even people who were into Porsches and Ferraris were wondering what Nissan was up to. Now obviously Nissan was laying the foundations for its Porsche-killing supercar, the GT-R... but today's G37 doesn't seem to reflect that. It just doesn't draw the same kind of appeal- even though it's roofline is definitely one of the sexiest in the business. Personally, I suppose this is because the front creases are created at such odd angles. But whatever you attribute the cause to, the car's lost some of its magic on the outside.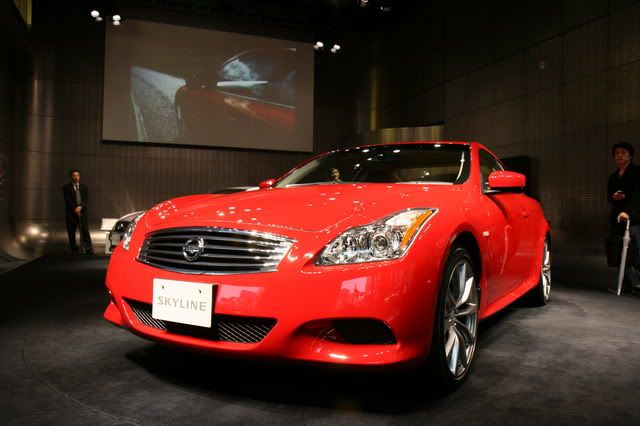 On the interior though, the car's been massively upgraded. There's a healthy mix of ultra-soft materials, violet gauges, and leather from the seats to the doors. Theyíve motorized everything including seat width- which all makes for a very upscale environment. Dare I say it outdoes BMW and isn't far off of LexusÖ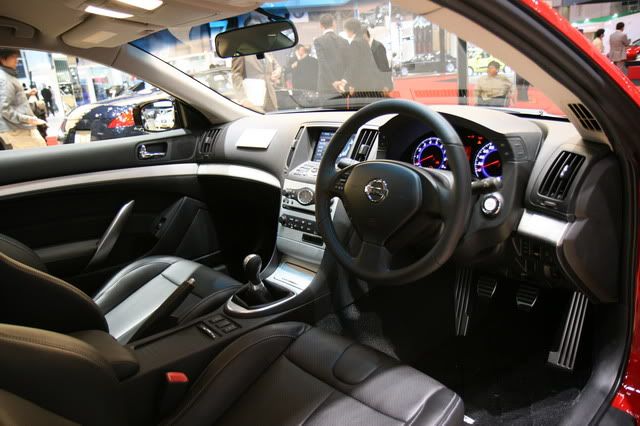 Then there's the ergonomics of the interface. In a word, it's among the best I've ever tested. Even with my discerning tastes, I am able to find an excellent driving position where the gauges-which continue to move with the steering wheel- are very visible. The steering wheel falls into my hand very nicely. The center console controls are all usable. And the pedal placement is, in a word, perfect. I'll go out on a limb and say pedal placement betters the S2000. And if you read what I think of that car, you'll know that's saying a lot. In the less than ideal shoes, I can raise the engine RPMs while braking with consummate ease. Nissanís made a well proportioned heal-toe dance partner. Well done, Nissan.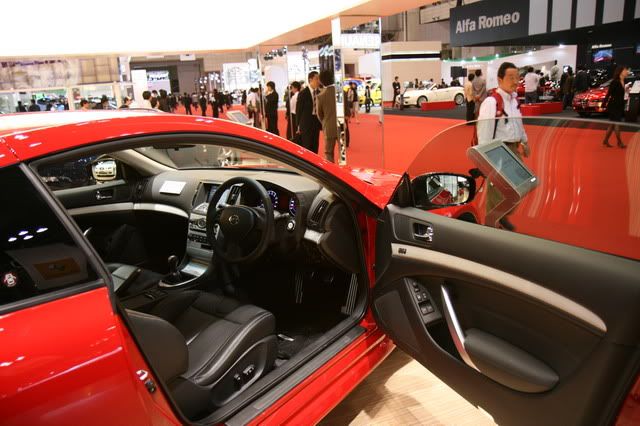 The ignition system on the new G's been changed. In the past the G used a mechanical key on most models. Now all new Gs- stick or automatic- use Nissan's new Intelligent Key system. Walk up to the car and it recognizes you. Turning it on is a simple push of a button away.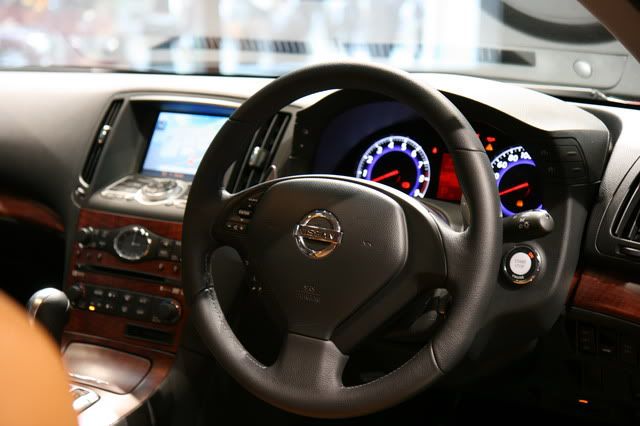 But disappointingly, that's where things go terribly wrong for me. Taking a page from Cadillac's ad campaign, when I turn on the new G, it didnít return the favor.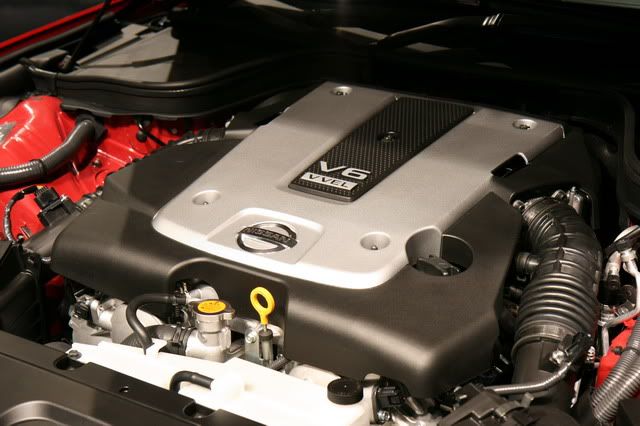 Now let me stop here to say that this car is massively capable. I was pushing it through very heavy rain on DCís highways testing this car- pressing it faster than was probably advisable. It sliced through water without issue. It's also quiet. Very quiet. A lot quieter than the G35 and 350Z. Take your friends out in it and they'll be impressed. Take your female friend out in it and you'll definitely be getting bonus points for the evening. I was moving through 80mph without feeling like I was moving very fast at all. I pointed, pushed the pedal, and the car just went. Sometimes I wondered if the speedometer was really rightÖ.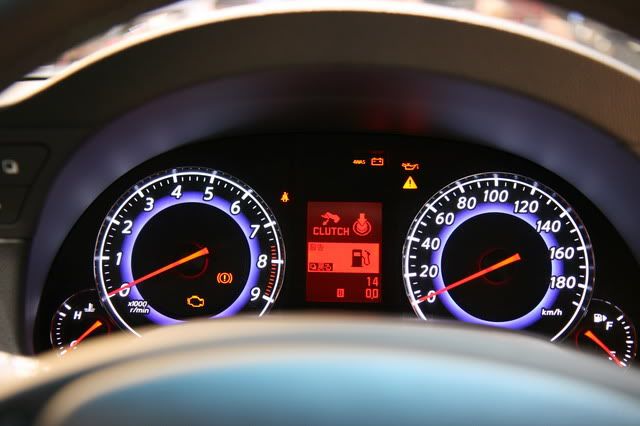 But coming from a G35, the excitement is gone. It started when I began to pull off from a stop. The new transmission feels much worse the older one. In every way. The shift throw is longer. When the carís in motion, the gates feel less defined. When youíre at a stop, the gates feel less defined. If the gates in the S2000 feel like theyíre made of steel, then the G35ís gates feel like theyíre made from wood. In comparison though, the G37ís gates feel like they were made from rubber bands. Tight rubber bands, but rubber bands nonetheless.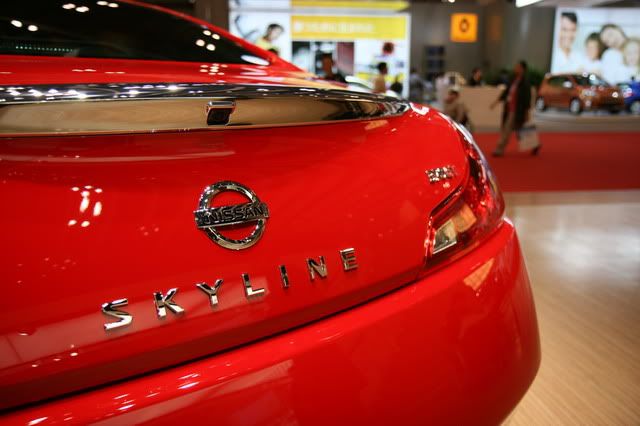 And then there's the clutch pedal feel. I think it it must be some kind of sick joke the engineers decided to play on people- they placed the engagement point just past at the peak pressure point. So, you will try to drive off smoothly from a stop and you just can't. You push the pedal a little and it's not enough to get to the engagement point. So you push it a wee bit more and you completely miss the engagement point and the pedal is on the floor. I love heal toeing in my G35. I do it out east every Sunday -religiously. I've driven Altimas, Sentras, and MaximasÖ stock and modified. . .and all were much easier. In the S2000 it's sublime. Even in Mosler's Consulier, where it is a lot of work, it functions well. But this? No. Nissan needs to rework it.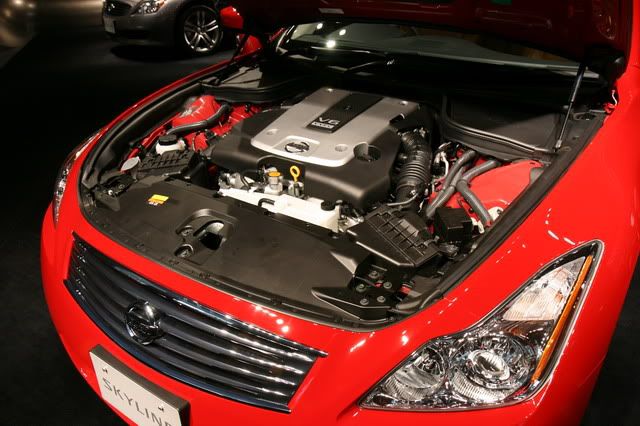 As if this isnít enough though, there is a reduction in feel everywhere else. You see, after Nissan built the G35, they received all of two letters from irate customers (probably Lexus and Mercedes fans) - saying that the Brembo brakes that gave off dust... and that the shifter, which was directly connected to the transmission, vibrated. The two bandits also complained that the car had an exhaust that you'd hear echoing through your house when you started it up cold. Unfortunately, Nissan listened to these heathens -who don't even like to drive- when they built this new G.
So the new G37 is softer. You don't hear the exhaust as much in the car. It no longer carries stiff Brembo brakes. And the transmission doesn't shake nearly as much. It's rubbery and quiet. So when you're driving and missing your shifts you will look bad. And it's not very excusable because you can't pretend you're in a sports car anymore.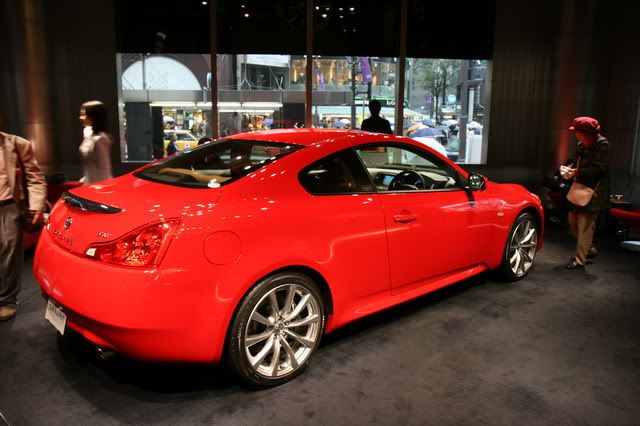 Perhaps I'm overly harsh. The new G37 does have nearly 50 more horsepower over the last, ringing in at 330hp. So even with added weight and chassis reinforcement, it presses forward hard and with a reassuring immediacy. The revs climb high too- and sail clear toward the far side of 7,500rpm. Even with a loaded car it drives very well. And Iíll give credit to Akebono where itís due - itís brakes are pretty close to the Brembos the G once had. Vehicle stability is also somewhat improved from the last generation. Over bumps the ride is more controlled, and that is a great improvement.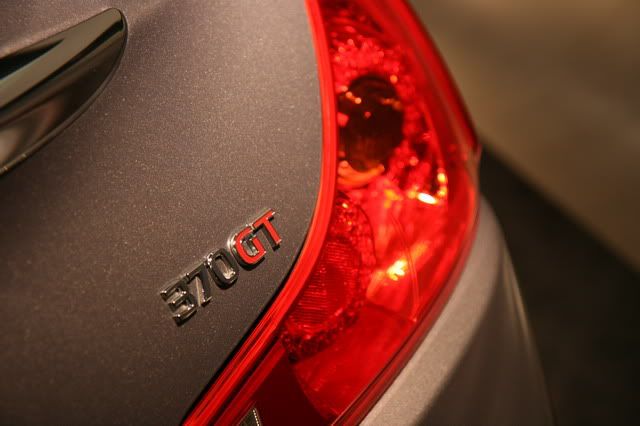 But sadly, the character has changed. My guess is that Nissan is trying to eat into Lexus, Mercedes, Audi, and BMW's markets with this new car. Theyíre no longer on their own field. I'm sure they figure that the people who would miss these features would either buy a 350Z or, if they're willing to spend more, a GT-R. I can see where they're coming from with that, but honestly it isnít necessary. A sports model G with an S badge should have be serious business. Brembos. A tight manual transmission. The works. I like hearing the car's exhaust when I start it up on a crisp morning with the sun at the sea. I like hearing the transmission as I idle 1st gear through the quiet streets of Christiansted on early Sunday mornings. And I really, really like hearing the exhaust scream through the car at redline around south shore. And I canít imagine Iím alone.
And the S badge should have had it. Especially since the asking price is well into the $40,000 range.
At the end of the day though, it really is a competent car. When you look at the rest of the segment, you can't knock its character too much, at least in comparison with Lexus and Audi. But against BMW I suspect they've given up ground. While I can't confirm that suspicion without driving the new 335, it's a guess I feel confident in making.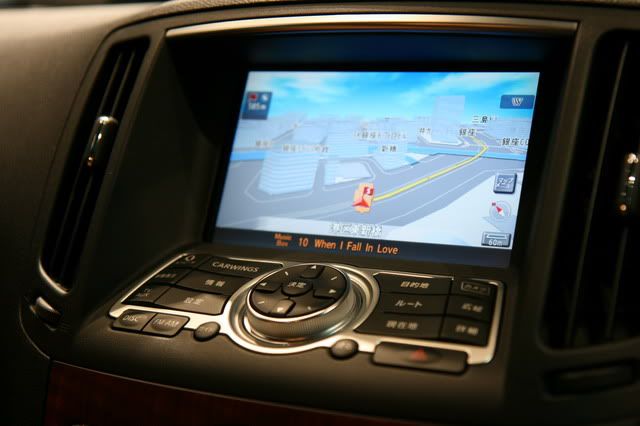 For prior G35 (or 350Z) owners who love the raw performance I must strongly suggest you think twice. If you're 100% happy with what you have- and aren't trying to use you car to impress anyone besides yourself, be aware of the 80-20 rule. Be very aware. If youíre looking to upgrade, consider the 2007 350Z and 335i as well. But for most, and perhaps this is 80% of todayís motoring crowd- the G37 is a fine machine that will impress.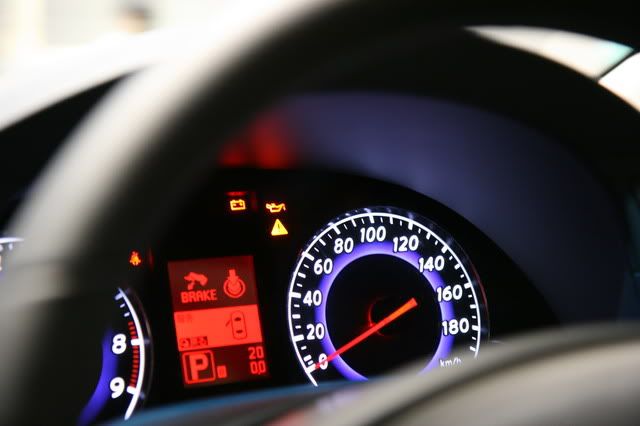 Second Take:
After getting back into my old G again and driving it for a while, I must re-emphasize the difference between the environment. The new G is very upscale. Again, people will be impressed by the suite of features from the radar cruise control, to the soft leather everywhere and the LCD screen that comes on all cars- even on cars without navigation. But the older generations arenít bad. And neither is the Z. So I forget about it when I drive. My thoughts on the new G are that it's a faster car- reports suggest it may be a mid thirteen second car in the quarter mile, with even more pull up top. I believe it, but when you're seated in a G37 you don't really feel it like you do the G35. So the interior has to be good.
Compared with the Z it's a different animal. Much more refined, but less edgy.
As the prices of the whole segment have risen sharply, I must say that the G does remain a good value. I've knocked it for not being as sporty as the old G, but that seems to be the way of things- Mitsubishi Evolution fans will know what I'm talking about. And again, compared to, say, the Lexus ES, Audi A4, even the Lexus IS and BMW 3 series- the new G is excellent. It's just a shame it wasn't the home run we all know Nissan/Infiniti could have hit.
Regardless, I do miss my time with the car, and that's not something I say for just any car. And my friend who went with me- who is also a Nissan enthusiast- is convinced enough to look into buying one. Plus, the aftermarket is already coming around, with major tuners believing the bottom end of the engine will be good for a reliable 500whp. So, for all but the most demanding drivers I think it's safe to say it is still THE G. And for those drivers who don't fall into that group- well, Nissan has a Z, or if you're insane enough, an R for you.
Note - due to inclement weather, we were unable to do a complete photoshoot. The first and last shots were of the car driven. The others are from one manual and one sport/automatic car we had access to at TMS in Chiba City, Japan. The Nissan Skyline 370GT and Infiniti G37 are equivalent models with the only significant differences being steering wheel position, lighting, languages, etc. The exterior as well as the performance and mechanical features are identical.