I'll never forget the first time I sat in a small 2+2 seat airplane. It was a strange experience- very unlike commercial jets in pretty much every way possible. And it was obviously a different world from any military fighters I'd had the opportunity to sit in. It was bewildering to slowly strap in and wonder how everything worked. The gauges didn't have a refined look but I knew they were functional. There were no computers. All of the controls were in working order, but I knew I didn't want to touch them unless I needed to. The sights were different, the feel was different, the smell was different. The only thing I could compare it to was a car, but the airplane was much more compact and had a completely different feel. It was the sort of thing where you had to wonder if it could really work that well. I mean, the pilot was directly connected to everything...and the cabin was so small....
That's what I was reminded of the first time I approached the Mosler Consulier GTT. But like a light airplane, this machine was purpose built. And it wasn't built to look good in a parking lot or spend its life garaged and under cover. It was built to do that which other machines couldn't....
It weighs 2200lbs. It has 200hp via a mid mounted 4 cylinder 2.2L Dodge Turbocharged Engine. It has a rocker arm suspension to reduce unsprung weight- and every painted panel is a composite of one type or another. The roof, rear, front, and sides are all made from one composite monocoque. The subframe and monocoque are shaped to fit together, largely minimizing the need for bolts, which are there for safety anyway. Remember those Legos you had that you couldn't split apart as a kid? It's like that- before its bolted together. The car was built to race, and so it did with so much success that it ruled many a Porsche, BMW, and Vette in its day...
...until they kept forcing it to race with more and more weight to keep the playing field even. You see, no one could match it. And here's Streetseen with the street version, many years later, wondering how this car compares to contemporary sports cars.
Lets start with performance. It's reasonably quick. At the minimum, it's Civic SI quick. Thanks to its low weight, it'll hit 60mph in under 6 seconds and is said to pass the goal posts 1320 feet later in 13 seconds and change. But it's much better with the turns, where you probably won't find the limit on public roads. To do so would involve going faster than you'd probably feel safe... at least, with a car so different from everything else.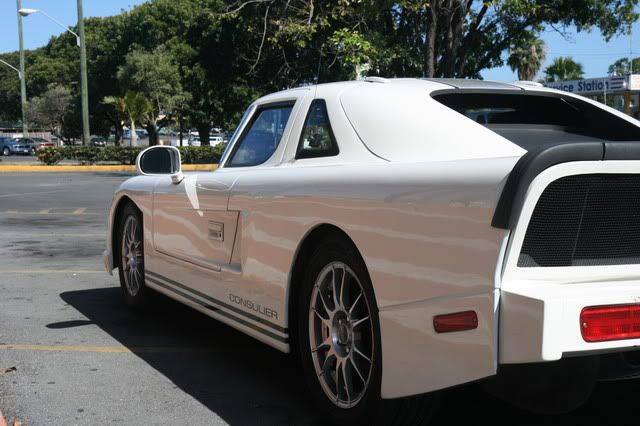 Image wise, pictures don't do the car justice. It's like taking real life shots of a normal, capable and reasonably good looking girl from another part of the world and comparing her to the light-stage photography of a million dollar studio, with a local girl wearing several thousand dollars in makeup, all to appeal to the masses. It's not a realistic comparison. Because the Consulier wasn't built for the masses, and it was built for function, it's unique, which is why the Consulier looks better in real life. And everyone loves to watch it.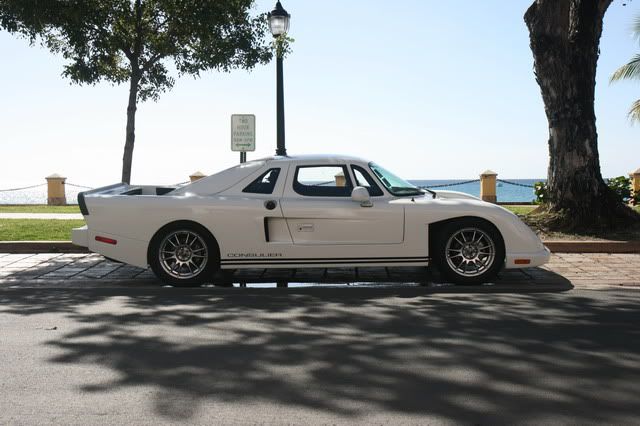 And they like it. Sitting at Wendy's with it, it draws attention from traffic like you would not believe. One man sat in traffic for the better part of 10 minutes to pull into the lot to get a closer look. He walked around it no less than three times, after which he scratched his head and looked around as if he thought he heard the car say something. With no one around him to verify that with, he maintained his puzzled look and made one last walk around it before driving back to where he came from...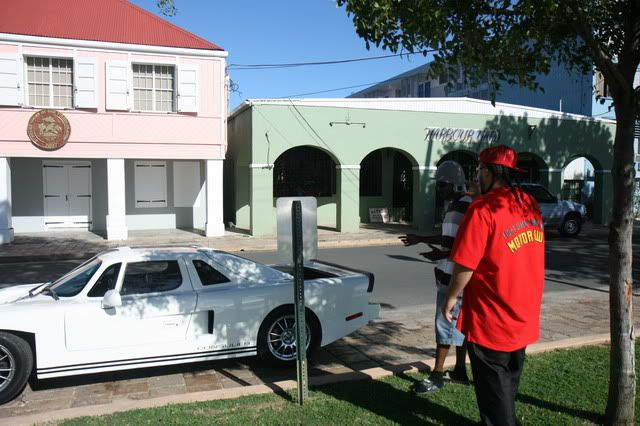 Down on the western end of St Croix a simple photo shoot turned into an event. If you were stuck in traffic there please accept my apologies. I was busy explaining to them that it was NOT a McLaren, NOT a kit car, and that it REALLY WAS built by a man that lives on St Croix.And it's his vision, Warren Mosler's.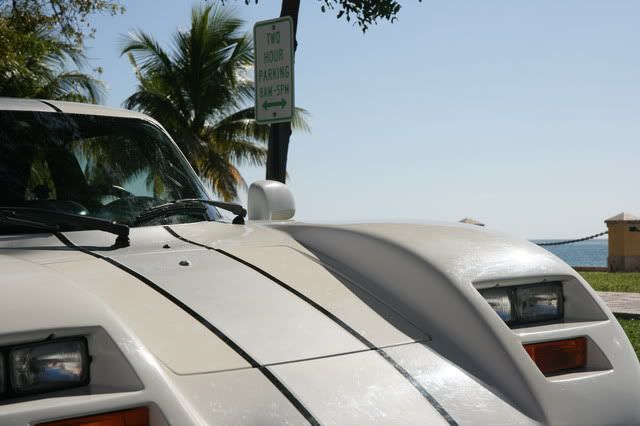 It's his idea of how to build a proper performance car. In a day and age where cars were getting heavier, more artificial and most distressingly- slower- this was his correction for the market.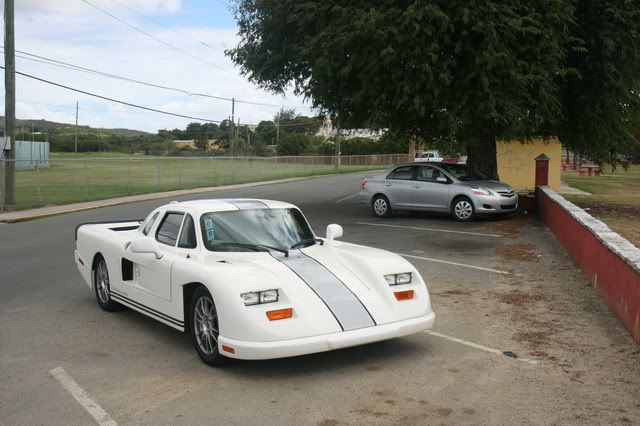 It's a car ahead of it's time. He claims it's the first federally street legal composite monocoque car, having been on the roads years before the McLaren F1. You won't believe this but it's actually 20 years old. Yes, all that composite work, the engine, the rocker suspension design, everything... 20 years old.
Indeed, not bad. People loved to see it. And Hear it. And look around it. And under it. The overall stance is race-car simply because of its proportions. It's not a tall car, and it's evident that the engine is mid-mounted with careful air ducting. Not much time was spent putting the car before consumer focus groups.
Actually no time was spent with focus groups. The details confirm the functional appearance: it's radiator is rear mounted, helpful in endurance races where you don't want to risk damage to it. Fans mounted to the rear pull air through the radiator when you're at a stop. The bottom rear holds a diffuser to help airflow. The odd shape of the cabin allows easy entry and very high structural strength, yet at the same time centralizes lateral weight.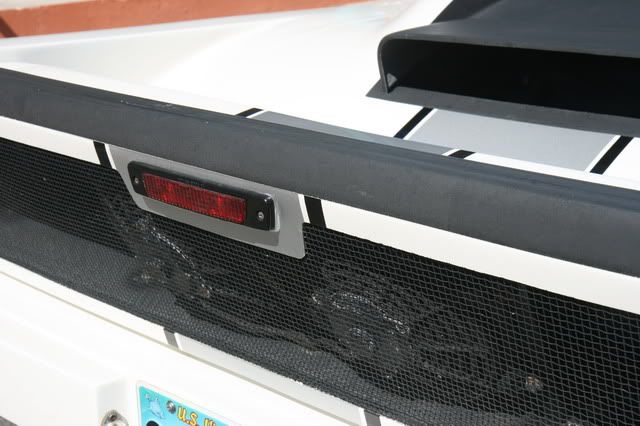 The car was designed for 15" wheels but wears 16" lightweight OZ Racing wheels with fat Michelin Pilot Sport Exalto tires to help adapt the car to the St Croix roads without sacrificing grip. The car's suspension is also raised to provide about six inches of ground clearance. The results work: it's easy to drive the car over large speed bumps in Sunny Isles or down at the beaches in Frederiksted. It's also easy to navigate the large dips in the roads of Green Cay and South Shore...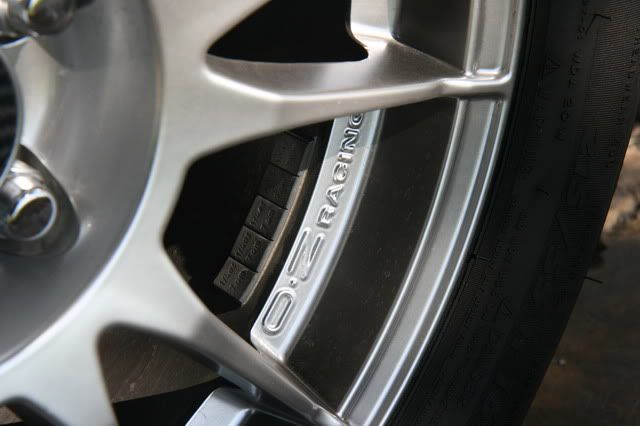 But I'm getting ahead of myself. In person the car feels unique and purposeful in all aspects, before you even touch it. It feels exotic. Not in a Pagani Zonda sense, but in the sense that you know you've never dealt with anything like it before. The feeling is reinforced as soon as you look to get inside it...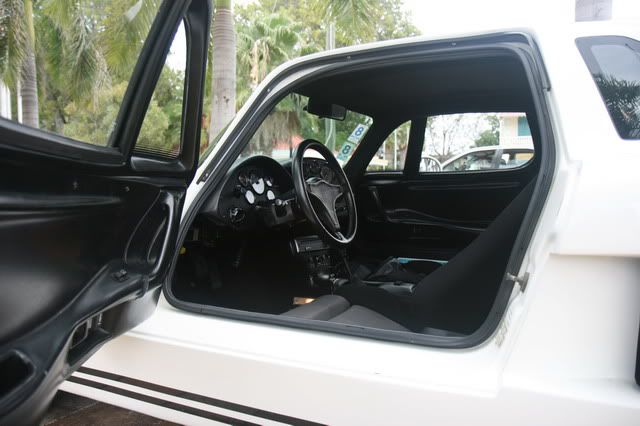 When you open the door you realize the entry way is smaller than most cars. It's not too big of a problem though because the roof is narrow, allowing you to get in with relative ease. All you need to do is put one leg in and drop into the seat. Pretty simple. Getting out can be trickier as you manage your weight however. You don't want to hit your head on the door as you exit. You'll look like a fool in front of the dozen or so people that will be staring at you at the gas station.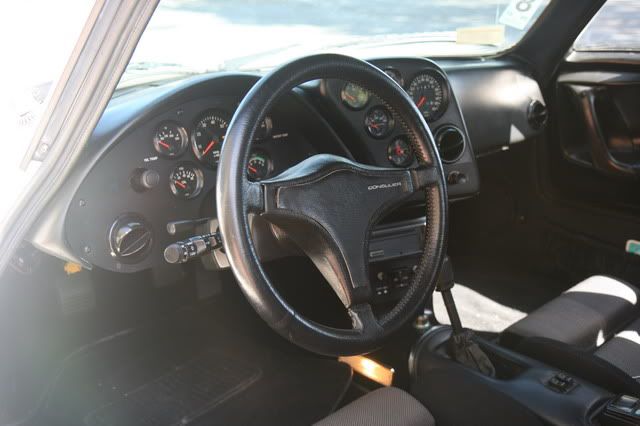 Once seated the cabin area is small. It's another reminder of a lightweight performance aircraft. Now while you'd think it would take a big company to do ergonomics right, you'd be wrong. The primary gauge cluster is in plane with the secondary gauge cluster AND the side mirrors. It makes scanning the instruments and view surprisingly easy. Ahead of you, the center gauge is the tachometer, a most useful -and fun gauge, especially when you make the needle swing past 4,000...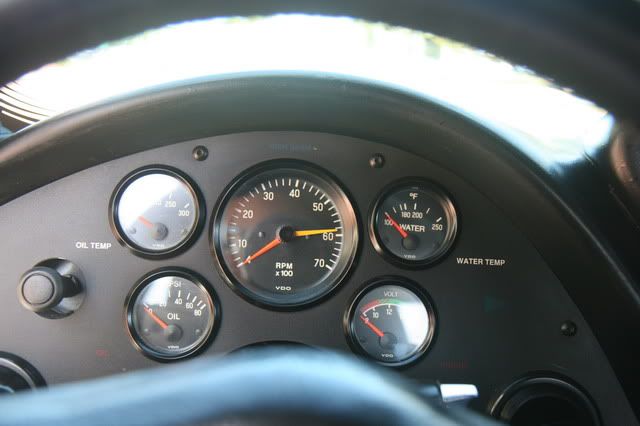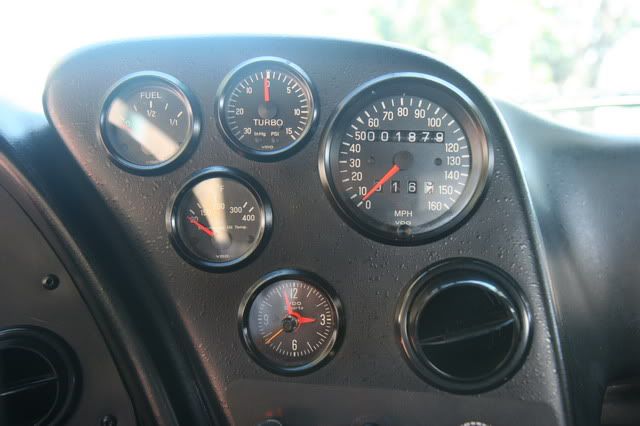 The seats are reasonably decent, but probably the weakest link in the interior. They're not as comfortable as say, a 350Z much less an S2000, but they do work to hold you in without issue. It's yet another curious reminder of the world of light aviation as you reach -way back- for the seatbelt to secure yourself. Thankfully, the seats won't give you pains in short stints behind the wheel.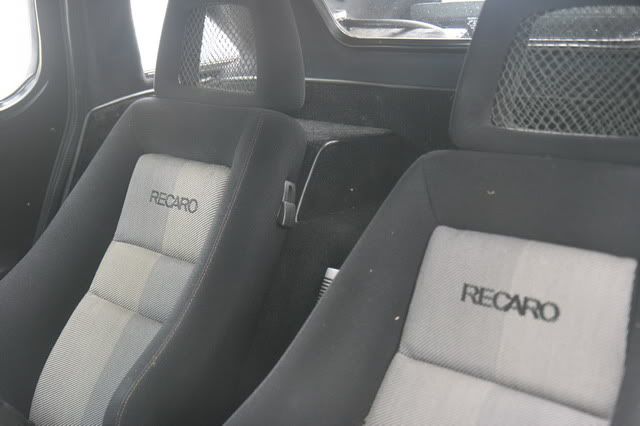 Once inside, the overall view from within the car is very good, as is the view left, right and rear. The blind spots are not bad either, again thanks to its oddly shaped cabin, and overall the car is relatively easy to drive normally, once you start the ignition system...
Twist the key and the car fires up and rumbles to life.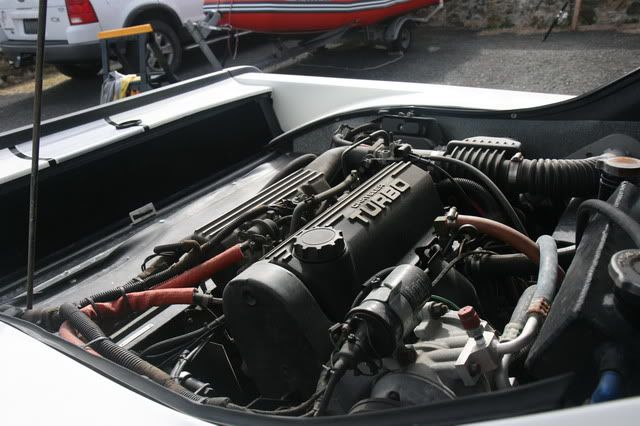 The center tachometer needle spins up past 1,000 before settling down near 800rpm. The engine rumbles away behind you with a penetrating drone giving off a purposeful presence. The exhaust note is very audible- and you feel it- even though it it's not overly loud. You get the feeling that it's not a commuter car. It just wasn't built to impress anyone. It's a car meant to drive. More specifically, navigate a roadcourse. And little else. You really do feel strapped into a light aircraft. This is a machine with purpose.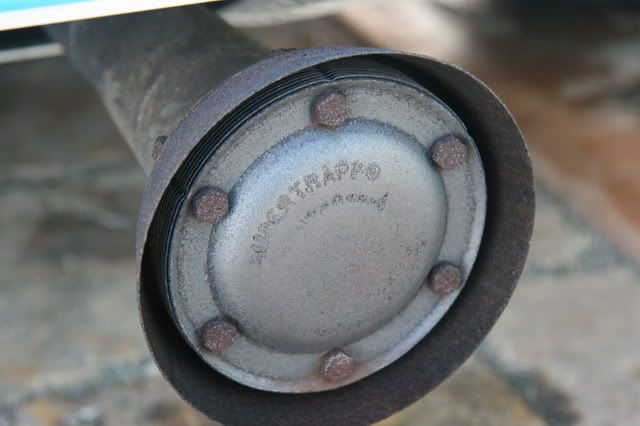 Sliding the car into reverse is easy. Lift the ring on the transmission stick and bring it toward you and up to the left. The gates are defined but not notchy at all. It's spring loaded so that if you let go the stick would fall vertically between 3rd and 4th. Something good to remember. The clutch is heavy, but mercifully progressive in feel. Ease on the gas and away you go from your parking space. Slide the stick back into first and you're off.
The gas pedal is large. Larger than your typical Japanese car for sure. It encourages you to slide your leg closer to it and smother it with your foot. Despite it's size, the brake pedal is easily accessible next to it. Moving your foot from gas to brake is not a problem at all although it would have been preferred for them to have been more in plane to aid in heal toe maneuvers.
As you slowly start to get underway and start shifting, you notice the clutch pedal is weighted and heavy. It's something you start to get used to after a dozen miles or so as the transmission is very smooth. Engagement is not snap-tight nor is it sloppy. It's just straight forward.
As the car accelerates, you notice that the ride is not harsh at all. Mosler claims it rides as well as any Camry. Maybe that's true against newer Camry's with sports packages. Seated behind the wheel, it would seem that a Sentra or maybe an Accord could give it very good competition, but let's be honest, that's not a fair comparison. That's like saying a certain bullet proof vest is more comfortable than some branded bubble jacket. It might be true, but all you're saying is that the vest is comfortable enough to take to the streets with. And that's what I'd say about the Consulier.
Although all the controls feel heavy you start to adjust after a few dozen miles of winding roads and a couple embarrassing gas station visits. Along the way, you also learn not to watch anyone else- you'll only get distracted because they're all looking at you...
But don't lose your concentration and crash! Yes, the car's composite monocoque construction is so solid it was able to drive home from Federal Crash testing, and yes it's stronger than most production cars fitted with after market cages, but is that something you really want to test with your own body?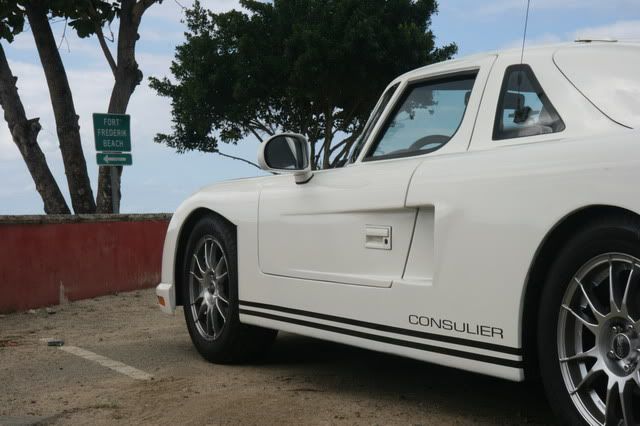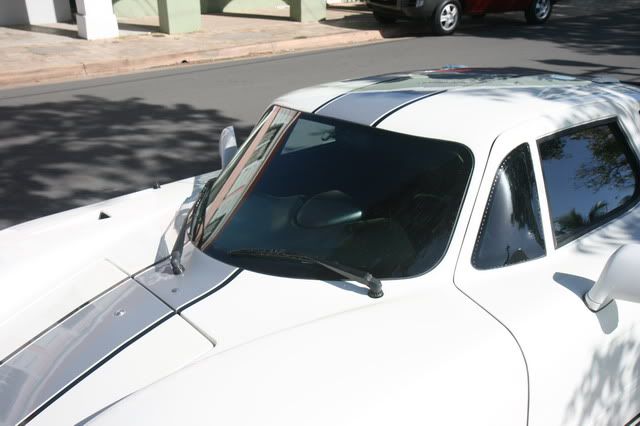 As you pickup speed it takes less effort to turn and the powerless steering, which at first felt ludicrous, starts making good sense. Once at speed you might even wonder why more sports cars don't feel like this. Your progression down the road becomes a play that unfolds in front of you, and via the steering wheel nothing goes by without your noticing -and approving- it. Again it's like flying a Cessna 152. You feel everything that happens. Maybe those who say power steering is the devil's work were on to something? Either way, it's definitely a vote from the pilots who hate fly by wire...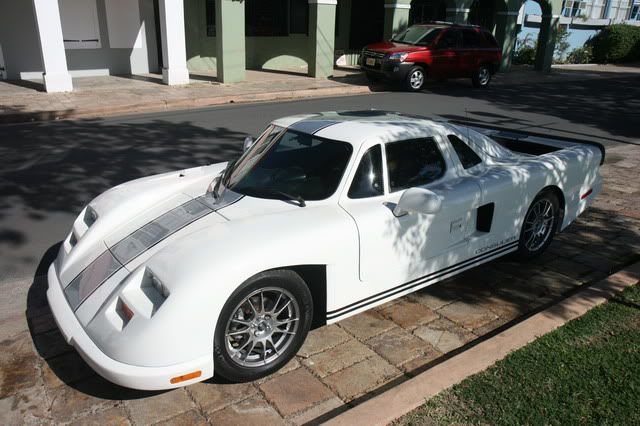 Under 4,000 rpms, the engine feels reasonably capable. You won't feel like you're in a rocket because, well, you don't have very much horsepower to work with. But once you get up in the RPMs and the turbo spools, you get pushed back with that feeling that only turbocharged cars can give. Then there's the blow off that, although quiet, you won't miss when you ease off the gas...
Braking is...unexpectedly good. Like the clutch and gas pedals, the brake pedal feels heavy as well. When you're using it you don't feel like it's all that effective. Pedal feel is reasonably good, but not quite as good as, say a Brembo GT setup. So as a result you think they're not effective... until you try a hard stop and the car comes to rest about 50 feet shorter of where you thought you were...as happened to me.
With it's weighted feel and direct experience, the Consulier is a very purposeful drive. This car offers a lot of grip. Traveling on the highway here on St Croix you're made aware that you'd have to be traveling at triple digit speeds before you started to have any concern on how much grip you have left. And you get all of this in a package that's also setup to handle whatever potholes and massive speed bumps you come across. Not bad.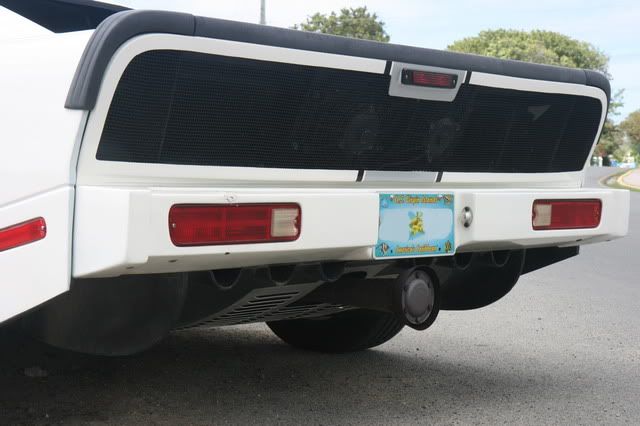 But by now you might be wondering: how does it compare to other cars today?
I was wondering the same thing. To find out, we took two cars: a modified Infiniti G35 and a factory stock first generation Honda S2000 on repetitive runs of the eastern loop of St Croix and down to Frederiksted, racking up mile after mile, in search of some answers...
To be continued...